EMERGENCY SERVICES & PLANS
Serving Conshohocken, PA & Beyond
Even if you are diligent with routine maintenance and service, we all know that unforeseen events or accidents can happen from time to time. At Masciantonio Heating & Air Conditioning, we offer Emergency Services to handle these unfortunate issues. We are available 24 hours a day, 365 days a year. Our skilled technician will diagnose the problem and work diligently to solve the problem quickly and affordably. We understand that any type of repair is stressful. We will work with you to find a repair option that gets your system back up and running as fast as possible.
---
HOW TO KNOW YOU MAY NEED SERVICE
There are a number of signs that indicate it may be time for your systems to be looked over. Some of these include:
Excessive Noise or Mechanical Sounds
Noticeable Buildup Within System Components
Temperature is not Matching that Set by Thermostat
Water Pooling Around or Nearby System
---
Give us a call to set up a time to look over your HVAC system.
---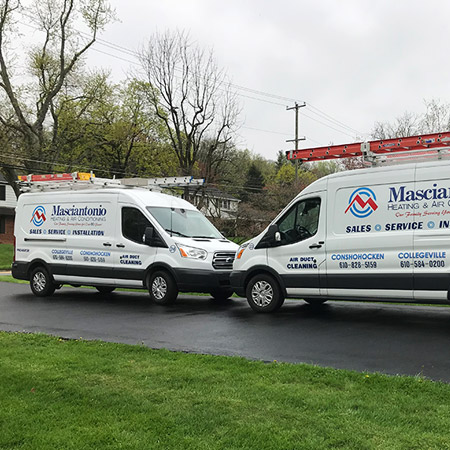 Call us today at (610) 828-5159 to receive a free estimate for any Heater or AC Unit Replacement. Or call for our 24/7 Emergency Service assistance!